"I always say the person you listen to is the most important person in your life.
What voice are you going to listen to? "
-Veronica Karaman
Bump In The Road:
Veronica Karaman– Life Lessons from Golf
Veronica Karaman: Life Wisdom from the Golf Course
"My story really begins as a little girlwhen my father placed a putter in my hand, and that began my lifelong love and passion for the game of golf.
I laugh and say, 'I wasn't born with an umbilical cord, I was born with a five iron attached'."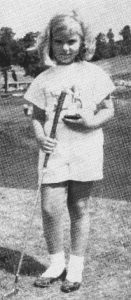 And that five iron took Veronica to the US Open and beyond. But most of all it started a life long pursuit of how awareness translates into our lives.
Veronical has hit more than a few bumps. From debilitating chronic fatigue to the US Open in 6 months, Veronica's story is one for everyone who aspires to overcome their circumstance.
"I think one of the first lessons I learned is if you let the illness define you, if you let it become part of your identity, you're doomed.
You have to separate your identity, from your struggle."
"And the second lesson that I learned was that the victory comes on the other side of the fight. And people give up fighting." Veronica's passion overrode her disability as step by step, slowly, she came back with a wisdom that had previously eluded her. Her book is also chock full of wisdom, as is this podcast.
The Champion's Way is a way to "think about your thinking," Veronica explains. Come listen to a remarkable story filled with wisdom and hope. And visit her website truechampionacademy.com to learn more.
Veronica Karaman On The Lessons From Golf
"I laugh and say, I wasn't born with an umbilical cord, I was born with a five iron attached."
"I didn't want the sport to have me, I wanted to have the sport. And I didn't know how to do that."
"I decided to listen to that voice. Just do it."
"The  victory comes on the other side of the fight. And people give up fighting."
"It was the vision that enabled me to take the incremental steps."
"Most people don't know how to get in touch with their champion voice."
"The most powerful place you can play from is from a place of wholeness, a place of integration, a place of your head and your heart connected."
More From Bump In The Road